Product description:
The new series of pneumatic film direct single-seat control valve with top guide structure, with multi-spring actuator. The utility model has the advantages of compact structure, light weight, sensitive action, S-shaped fluid passage, small pressure drop loss, large valve capacity, precise flow characteristics and convenient disassembly and assembly. Widely used in precise control of gas, liquid and other media, process parameters such as pressure, flow, temperature, liquid level at a given value. Especially suitable for small amount of leakage before and after the valve is not small pressure on the workplace.
This series of products have a standard type, regulation cut off, bellows sealed, jacket insulation and other varieties. Nominal product pressure rating PN10,16,40,64; body diameter range DN20 ~ 200. For fluid temperature from -200 ℃ ~ + 560 ℃ range of a variety of grades. Leakage standards have grade IV or VI level. Flow characteristics are linear or equal percentage. A wide variety of specifications to choose from.


Features:
1, top-oriented single-seat control valve, compact structure, fewer parts, easy maintenance.
2, the metal spool for a variety of workplaces, up to Level IV leakage standards, ZXPQ-type soft-sealed spool up to Level VI leakage standards.
3, the valve body designed by the principle of fluid mechanics, such as cross-section low flow resistance flow channel, the rated flow coefficient increased by 30%.
4, adjustable range, the inherent adjustable ratio of 50.
5, the implementing agencies using multi-spring structure, a 30% reduction in height, weight reduction of 30%.
6, ZXPV bellows sealed control valve, the valve stem to form a complete seal, blocking fluid leakage.
7, ZXPJ-type control valve with a thermal jacket for fluid cooling easy to crystallize, clogging caused by solidification of the occasion.


Part Information:
Body, bonnet: HT200, ZG230-450 ZG1Cr18Ni9Ti
Spool, seat: 1Cr18Ni9Ti, Stellite alloy surfacing
soft seal Spool: Reinforced PTFE
Filling: PTFE, flexible graphite
bellows: 1Cr18Ni9Ti
pad Film: Asbestos board, 10,1 Cr18Ni9Ti, asbestos wrap gasket
Membrane cover: A3
Corrugated diaphragm: NBR rubber reinforced polyester fabric
Spring: 60Si2Mn
Stem, push rod
: 2Cr13 , 1Cr18Ni9Ti Bushing: 2Cr13


Technical Parameters:
Nominal diameter DN (mm)

(Spool diameter dN)

20

25

32

40

50

65

80

100

125

150

200

(10)

(12)

(15)

(20)

Rated flow coefficient Kv

straight line

1.8

2.8

4.4

6.9

11

17.6

27.5

44

69

110

176

275

440

690

Equal percentage

1.6

2.5

4.0

6.3

10

16

25

40

63

100

160

250

400

630

Rated stroke L (mm)

16

25

40

60

Diaphragm effective area Ae (cm 2)

280

400

600

1000

Signal range Pr (kPa)

20 to 100, 40 to 200

Air pressure Ps (MPa)

0.14 ~ 0.4

Inherent flow characteristics

Straight line, equal percentage

Inherent adjustable ratio

50

Allow leakage

Hard Seat: Class IV (10 -4 valve nominal capacity) Soft Seat: Class VI

Nominal pressure PN (MPa)

1.0, 1.6, 4.0, 6.4

Operating temperature t

(° C)

Normal temperature type

-20 to 200, -40 to 250, -60 to 250

Cooling type

-40 ~ 450, -60 ~ 450

High temperature type

450 ~ 560

Low temperature type

-60 ~ -100, -100 ~ -200, -200 ~ -250
* This product performance indicators to implement GB / T4213-92 standards
◆ Dimensions and Weight Standard, heat sink, high temperature type Dimensions Unit: mm
Nominal diameter

20

25

32

40

50

65

80

100

125

150

200

φ A

282

308

394

498

L

PN16, 40

150

160

180

200

230

290

310

350

400

480

600

PN64

230

230

260

260

300

340

380

430

500

550

650

H 1

PN16

53

58

70

75

83

93

100

110

125

143

170

PN40

53

58

70

75

83

93

100

118

135

150

188

PN64

65

70

78

85

90

103

108

125

148

173

208

H

standard

type

PN16

429

438

474

476

502

622

646

687

835

889

981

PN40

429

438

474

476

502

622

646

695

845

896

1000

PN64

456

468

511

525

535

663

673

705

868

958

1260

Cooling high temperature type

570

570

610

610

630

730

810

820

960

1090

1180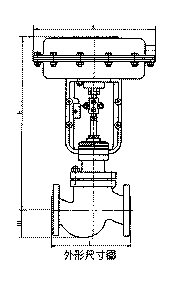 * Cooling, high temperature type (H) is the value of PN16 ** Jacket height H1 and H increased by 15%
◆ Bellows sealed external dimensions
Nominal diameter

20

25

32

40

50

65

80

100

125

150

200

φ A

282

308

394

498

L

150

160

180

200

230

290

310

350

400

480

600

H 1

53

58

70

75

83

93

100

110

125

143

170

H standard

446.5

453.5

490

542

537.5

617.5

667

675

735

907.5

900
Specifications Weight:
Regulating valve weight table & bnsp; & bnsp; unit: kg
Nominal diameter

20

25

32

40

50

65

80

100

125

150

200

Standard type

PN16

16

17

19

21

23

35

48

57

64

70

90

PN40

16

17

19

21

23

35

48

60

67

74

95

PN64

20

21

25

30

33

44

71

91

100

115

145

Cooling high temperature type

17

18

20

22

25

36

51

60

67

74

95

Bellows type

20

21

25

30

33

48

71

91

102

115

145

Low temperature type

20

21

23

26

28

42

58

69

77

84

108
* In this table, the weight of high temperature type of heat dissipation is based on PN16 and the low temperature type is based on PN40


Connection standard:
· Flange standard cast iron flange according to GB4216.5-84 steel flange according to GB9113-88, JB / T79-94
· Flange sealing surface type: PN10, PN16 is convex; PN40, PN64 is convex surface, body is Concave.
· Membrane actuator air signal interface: Female thread M16X1.5
· Jacket insulation jacket Heat transfer body interface: Butt welding φ18X4
* The body flange and the flange end face distance can be manufactured according to user-specified standards.
Such as: ANSI, JIS, JPI and other standards.

◆ Ordering Information When
ordering, please provide the following information:
· Control valve name and model
· Nominal diameter (mm)
· Nominal pressure (MPa)
· Rated flow coefficient (Kv)
· Inherent flow characteristics
· Media name
· Operating temperature and range
· The whole mode
of action · Body, valve trim and packing material
· With accessories
· Other special requirements